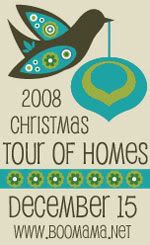 I cannot tell you how glad I am that we are not touring my home today, with its measly little 12 inch gold tree. I did not do Christmas at home, because, hey, I am not there!
I am in the Alps.
Yes - I am at my sister's home in Switzerland, high up in the Alps. And there is no-one on earth who does Christmas better than she does. So thanks to Boomama, you all get to see what her home looks like. And as I speak she is at work, so she will not know I swiped her camera and took photos. there will be more later. When I get round to getting shoes on and investigating all nooks and crannies.

But here we go with the first ones..... You walk in the door and Christmas starts right here.... If you touch that chimney, Father Christmas pops up and starts singing and dancing...
Then you turn left into the downstairs foyer, and Christmas is all around you! Yes, my sister made those cushions and the teddies under the tree, and so much more, you would not believe it....
Keep turning round - we have not even got to the living area yet....
This is her doll's house. Look a little closer.... yes, even this little house is decorated for Christmas!
And all the dogs' soft toys have now got into the festive spirit, and they all have Christmas hats on their heads.....
So now we go upstairs, because that is where the living areas are.....
And you look to the right, and here is the lounge....
But you have not seen her village yet. This is Marge's "St Petersburg" - that is what she calls her village. It is arranged, for Christmas, on special stands she built across the fireplace, and honestly, the photos do NOT do it justice. I walked in last night and the lights were on and it was magical. Stunning. So I have tried to take a few photos of it close up for you to see. Have I mentioned that my little sister is enormously creative and unbelievably talented? You may be hearing that quite often in the next 2 weeks....
So you have started to see her beautiful home. I say started, because here, it carries on, through the house. The bedrooms are decorated, as are the bathrooms and kitchens. The hallways, ....everywhere. And then you look out of any of the windows and all you see is snow and mountains. Magical. Perfect. Today it is a little foggy, but I do not care. I am in the Alps, and I am with Marge, Peter and Mum.
Excuse me now, while I go to find the snow boots and the Leki sticks. I am off to breathe in the alpine air.
PS....... Can I just say here that the tree is her Memory tree. The Christmas tree has not been put up yet! There will be loads more photos coming, believe me!